The WomenHeart Blog presents heart health information and news about the work of WomenHeart, a nonprofit organization dedicated to improving the lives of women living with heart disease in the U.S. Want to write for us? Reach out to us at communications@womenheart.org.
Top tags:
heart disease
advocate
Mary McGowan
Susan Campbell
Posted By WomenHeart, Wednesday, September 19, 2018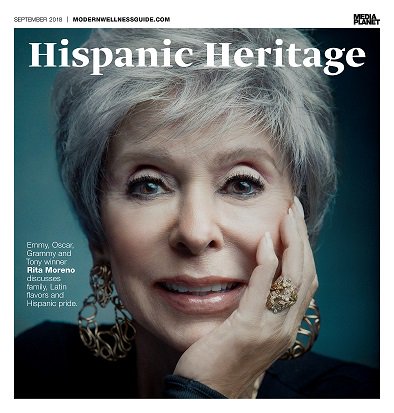 This month, WomenHeart is included in Mediaplanet's Hispanic Heritage campaign! As the largest minority group in the U.S., Hispanics hold power in our education systems, economy, workforce, politics, and overall culture. However, in 2017, 41% of Latino Americans reported having serious concerns about their place in America. Learn about issues facing this important community and join us in celebrating America's vibrant Hispanic cultures and heritage by visiting MediaPlanet's website.

Read the full article featuring WomenHeart Champions Yesenia Araujo and Mildred Rodriguez.

This post has not been tagged.

Permalink | Comments (0)
Posted By WomenHeart, Monday, September 10, 2018

September is AFib Awareness Month and WomenHeart: The National Coalition for Women with Heart Disease, is launching the "Nationwide AFib Month Opportunistic Screening Initiative."
Studies show that early detection of AFib can help to reduce the patient's risk for stroke. With the help of participating physicians and clinics across the country this initiative will help to increase the number of primary care provider patient screenings for AFib, mitigating the risk of stroke and other complications.
In preparation for the initiative, WomenHeart developed a resource infographic for physicians on the importance of screening for early detection. To encourage better outcomes for patients, physicians can also follow screening tips to assist with opportunistic screenings during Afib Awareness Month.
For physicians, opportunistic screenings lead to even greater AFib diagnoses than traditional screenings because:
It eliminates the patient need to self-select for an arranged screening.
It is designed to include the entire patient population seen by that physician.
Follow-ups are easier, more convenient, and more likely due to established physician-patient relationships.
If you or your primary care office might be interested in getting involved and raising awareness of AFib screening methods, please email communications@WomenHeart.org for more information.

Follow WomenHeart on Facebook or Twitter for more AFib resources, news, and updates on our initiative during #AfibAwarenessMonth.

This post has not been tagged.

Permalink | Comments (0)
Posted By Barbara Tombros, WomenHeart Board of Directors Vice-Chair, Thursday, August 30, 2018

More than 80 golfers hit the links on Sunday, Aug. 26 for the 4th annual "Swing with Heart" golf tournament. Initial planning started in Jan. and literally continued until the day of the tournament. I shared information about the event during an interview on Golf DMV, a weekly regional golf podcast.

Before I knew it the big day was here. Goody bags were ready. Customized golf balls ordered. Dinner menu finalized. Silent auction items tagged and on display. Special thanks to WomenHeart Champion Barbara Weiding for soliciting items for the silent auction, which was bigger and more diverse than in prior years. Everything I could control was checked off the list. One concern was the main thing I could NOT control—the weather, but Mother Nature did her part too.

It was a perfect day, after a summer of rainy days. We had the largest field of players, increasing registration by almost 25 percent. Sponsor signs lined the driveway and had been placed on the putting green, driving range and each of the holes at Belmont Country Club in Ashburn, Va. Golf carts surrounded the putting green and participants were dressed in some manner of red golf clothes. We were ready to tee off for a cause.

As in prior years, we had a short presentation about why it was important to support the mission and work of WomenHeart. This year our presenter was Carrie Wosicki, a WomenHeart Champion and former Chair of the Board of Directors. She reminded the audience that heart disease is the #1 killer of women, claiming the lives of more women than all cancers combined. She told the audience her story and indicated before she had her heart attack, she was totally unaware of her family history of heart disease, a major risk factor for her.

And then we were off to play golf and probably the most important aspect of our work occurred on the greens. A male player approached me and indicated he was a quadruple bypass patient and wondered why all our efforts were solely for women. I shared with him the one-year mortality data for women compared to men. I told him how women's symptoms were different than men's and were frequently misdiagnosed and how women often felt isolated in their heart disease battle. He was totally shocked by this information and committed to supporting the tournament every year.

In addition to having fun, increasing the money raised in support of our programs, we educated one more person about the importance of our mission. Hopefully he will share what he learned with others.

Here's a look at photos from the tournament.

This post has not been tagged.

Permalink | Comments (0)
Posted By Mary Logan, Interim CEO, WomenHeart, Thursday, August 30, 2018

Each year, Americans observe National Hispanic Heritage Month (Sept. 15-Oct. 15) by celebrating the contributions of American citizens whose ancestors came from the Caribbean,Central America, Mexico, Spain, and South America. WomenHeart is delighted to join in that celebration this year!

When my husband and I travel to other parts of the world, we always come home appreciating what we have learned about the history, culture, and traditions from the countries we visit. Travel also helps us feel more excited about participating in other cultures when we get back home to the United States because of what we have learned.

As we all find ways to celebrate and observe Hispanic Heritage Month, WomenHeart hopes to raise awareness about heart disease and Hispanic women. Only 34 percent of Hispanic women are aware that heart disease is their #1 health risk. And, while heart disease doesn't discriminate, and does affect women of all ages and ethnicities, it's important for Latinas to recognize that they are at higher risk than many other populations. We hope that you will join the campaign, too. It's simple, all you have to do is follow us on on

Facebook

,

Twitter

, and

Instagram

and share our messages. Each day we will share an interesting fact or quote from some of our WomenHeart Champions. And add your voice to our Twitter Chat on Sept. 26. More details to come.

Our family and cultural traditions are something to honor and cherish – especially during holidays and special times of the year, like Hispanic Heritage Month. As women who speak for, support, comfort, and educate women with or at risk of heart disease, please join us in celebrating Hispanic women and raising awareness about heart disease.

Warm regards,
Mary Logan

This post has not been tagged.

Permalink | Comments (0)
Posted By Kathy Webster, WomenHeart Champion, Midwest District Support Network Leader, former Board Chair, Monday, August 27, 2018

Did you know that women with AFib are more likely than men with AFib to have a stroke; Afib is the leading cause of debilitating stroke in women; and if left untreated, AFib can also lead to heart failure and chronic fatigue?
So what is AFib or atrial fibrillation you might ask? AFib, is a heart rhythm disorder in which the atria - the two upper chambers of the heart -- fibrillate or beat rapidly and irregularly. I have been living with AFib for 25 years and as a WomenHeart Champion, District Support Network Leader, and former board chair of the organization, I am very passionate about educating women about this particular type of heart disease. This is why I attended the Get in Rhythm. Stay in Rhythm. Atrial Fibrillation Patient Conference held in Dallas, Texas on Aug. 3-5, 2018. As an A-Fib patient, I tried eagerly and earnestly to listen and learn to the medical providers at the conference, and here are some takeaways that I came away with.

According to the Centers for Disease Control (CDC), up to 6 million people in the United States are living with AFib, and that number is expected to increase as the population ages. Over the years, WomenHeart has worked closely with Mellanie True Hills, an AFib survivor and the CEO and founder of StopAFib.org. Her organization is committed to increasing awareness about AFib by helping survivors improve their quality of life and avoid AFib-related strokes. She even created AFib Awareness Month which is observed in September.

This is the third time I have represented WomenHeart at the Get in Rhythm.Stay in Rhythm conference. Each time, it has been well organized and includes an impressive group of cardiologists and thoracic surgeons. These medical experts shared a wealth of information about AFib, including the latest developments on medications and treatments. The sessions covered a variety of topics ranging from managing AFib risk factors ─ to digital health and monitoring of AFib ─ to addressing gender disparities around treatment for women versus men. Which is one of the issues that WomenHeart tries to tackle in its work every day.

I was excited to share our materials and resources on AFib which were well received by the conference participants. I gave out everything I had and could have given out more. This experience helps to confirm that more education about AFib is needed. I will continue to amplify this message and be a voice for the millions of women are living with or at risk of heart disease.

The conference livestream is now available for free. Access up to 15 hours of patient-centered content by signing up on their website.




This post has not been tagged.

Permalink | Comments (0)
Posted By Kristina Brooks, Friday, August 24, 2018

In preparation for our 4th Annual Swing with Heart Golf Tournament, WomenHeart Vice-Chair of the Board, Barbara Tombros, was featured on a regional golf podcast, Golf DMV. Barbara joined the show to raise awareness of heart disease in women, and highlight the event.
This year's event, held at the Belmont Country Club in Ashburn, VA, includes 9 holes of golf on the course, a silent auction, a cocktail reception, and buffet dinner. The event will also host WomenHeart Champions to share their heart stories and advocate for the advancement of women's heart health. All proceeds go to supporting WomenHeart and its mission to providing patient support and education for women nationwide currently living with heart disease. Click the image to listen to the full podcast episode.
About the podcast:

Golf DMV is a weekly podcast discussing the latest news in professional golf, industry trends and highlighting golf courses in the greater Washington, D.C. area. Whether you're a high handicap, low handicap, club member or weekend hacker, if you love golf, you'll love the Golf DMV podcast.

This post has not been tagged.

Permalink | Comments (0)
Posted By WomenHeart, Tuesday, August 14, 2018

Summer is not quite over yet. Get a full dose of fatigue-fighting enzymes and summer flavor with these grilled fish tacos, originally posted in Woman'sDay.

Why they're heart healthy:

The unsaturated fatty acids in some fish can help to lower your cholesterol compared to the saturated fatty acids found in meat. But the main benefit comes from the omega-3's. This type of fatty acid helps to reduce inflammation, which in some cases can lower triglycerides, irregular heartbeats, and reduce blood clotting. One to two servings a week of fish high in omega-3 fatty acids appears to reduce the risk of heart disease, particularly sudden cardiac death.

Click to get the full recipe.

This post has not been tagged.

Permalink | Comments (0)
Posted By Rhonda E. Monroe, Board Chair-Elect, WomenHeart Champion, Monday, July 30, 2018

Rhonda E. Monroe, the incoming Board Chair-elect for WomenHeart, says that the sense of sisterhood and friendship that she found in the organization are truly priceless.
Originally posted on BlackpressUSA.com.
WomenHeart (the first and leading voice for the 48 million American women living with or at risk of heart disease) story begins in February of 1999, when three women, united by heart disease, formed an organization that was destined to become a lifeline for women across this nation. And at the same time, in February of 1999, a young mother in Charlotte, N.C. suffered a stroke while she was pregnant with her second child. Fortunately, she suffered no long-term deficits, but was horrified by her temporary left side paralysis.
Five years later, this size six, 36-year-old woman would suffer the first of three heart attacks just five days after giving birth to her third child. It was May of 2004. She was misdiagnosed for an entire week despite an EKG showing an acute myocardial infarction. She sought treatment six of seven days before someone finally listened.

On that sixth night, she laid on her bed with one foot on the ground for the entire night, afraid to relinquish her physical attachment to earth, because she felt her body shutting down. She prayed. And she vowed that if she lived, she would raise her voice so that no other woman suffered her fate.

After this week-long heart attack, she returned to the emergency room. She was rushed by ambulance to another hospital and taken to emergency bypass surgery. She had five coronary artery dissections, and she underwent an emergency quadruple bypass. Her heart was so remarkable that the surgeon literally held it in his hand and had someone capture a photograph.

Eight months later, that same young mother learned that her bypass grafts had shut down. Her rejection fraction was only 21 percent. She was advised to call a family meeting, get her affairs in order. Her prognosis was grim.

It was then that I became intimately acquainted with her. I marveled at her strength and resolve as we walked this journey together. She became a force of nature, moving heaven and earth in her fight for life. She underwent a repeat bypass, had part of her heart cut off, 15 laser holes drilled in her heart, a pericardial window cut in the sac around her heart, three defibrillator implants, stents, angioplasty, and then some.

She's flatlined four times, and suffered from congestive heart failure. She's experienced more heart issues than generations of a family. But I am happy to share with you that she is still with us. This is my story, and WomenHeart has been a lifeline for me.

I became a WomenHeart Champion in 2007 and it changed my life. The sense of sisterhood and friendship are truly priceless. WomenHeart is the nation's only patient-centered organization solely dedicated to advancing women's heart health through education, advocacy and patient support. At its core are WomenHeart Champions—women living with heart disease—who are trained to be community educators, support network leaders and advocates for women's heart health in the communities in which they live.

WomenHeart is a friend to many WomenHeart Champions like me. Today, I speak to audiences of women living with heart disease and medical professionals. I'm a little scarred and battle tested, I am no longer 36, I am no longer a size six, but I am still here. And I am determined more than ever now, to keep the vow that I made 14 years ago in May of 2004, so that not another woman suffers my fate. I, along with WomenHeart, am fighting for every heart with the same tenacity and vigor that saved my own.

As an African American woman, I know that this disease impacts women differently than men, especially minority women. Heart disease claims the lives of nearly 48,000 African American and 21,000 Hispanic women annually. Which is why I am asking other women of color who are heart disease survivors to join the fight and become a WomenHeart Champion at the 2018 WomenHeart Science & Leadership Symposium. It's the nation's only free volunteer program that trains women with heart disease to be community educators and support network coordinators in their communities. They are real women living with heart disease, who share their stories and important messages about heart health—all in the mission to save lives. Join me.

To learn more or to sign up, visit http://www.WomenHeart.org/empower.

Rhonda E. Monroe is the incoming Board Chair-elect for WomenHeart.




This post has not been tagged.

Permalink | Comments (0)
Posted By WomenHeart , Friday, July 27, 2018

The first thing WomenHeat Champion, Roxanne Watson shares with us when she picks up the phone is that she has an interview with her state senator. Then she jokes that she was on the news for her birthday twice last week. The following week is the anniversary of her heart transplant and Roxanne has been appearing on the news—just as she has done almost every week since her transplant in 2010— spreading awareness about women's heart disease.
"I didn't know I had a heart attack. I walked around for six weeks afterwards before I went to the doctor," Roxanne says.
It was the doctors at her local hospital who suggested she attend WomenHeart's Science & Leadership Symposium (S&L). "The best part was every single person in the room had something in common," Roxanne recalls. "We were all fighting the same tough battle. It really does feel like a sisterhood."
Armed with the knowledge she gained from S&L, Roxanne jumps at every opportunity to spread awareness. She is often called to speak on local news programs, schools, and community events. "Don't go back home after S&L and say I met some amazing women. Go to work!" Roxanne says. "Because [of] this WomenHeart connection, I can get in anywhere."
She can regularly be found at her local mall, where she hands out WomenHeart's signature Red Bags of Courage, which include information about heart disease in women. "I tell people this is the only free thing you're going to get in the mall today and this little bag is worth more than anything in the mall. It's going to save your life."
---
"I thought I was having hot flashes. I was having a heart attack," explains WomenHeart Champion, Melissa Botello. "It was late at night when I began feeling unusually fatigued, experiencing jaw pain, having what I thought were very intense hot flashes."
Melissa didn't want to wake her family, so she ignored her pain. When she eventually did seek treatment for her jaw pain, she recalls, "No one really took my pain seriously. Doctors suggested I was menopausal."

Mostly out of a matter of precaution, she eventually ended up in the catheterization lab for what she was told would be a quick, thirty-minute procedure. "I looked at the clock and saw it said 1 P.M.," Melissa recalls of entering the lab. "When I woke up it was 5 P.M. and I was instantly terrified."

She had been there for an angiogram and ended up having an angioplasty, with two stents placed in her heart.

Melissa is a single mom who works full-time. She has professional experience telling stories, forging connections, inspiring others and uses all of those skills when she creates or appears on health podcasts. She says that attending the Science & Leadership Symposium helped her better formulate her heart message. It gave her the facts to pair with her personal story. Look for another heart health podcast from Melissa in the coming weeks.

This post has not been tagged.

Permalink | Comments (0)
Posted By WomenHeart, Friday, July 27, 2018

Recipe originally posted on Eating Well.

We're making the most of all the fresh summer vegetables while we can. Late summer is an excellent time to take advantage of fresh tomatoes at the local farmers' market or even from your own backyard, so why not try some homemade ketchup?

Why it's heart-healthy:

Although reducing the amount of salt added at the dinner table after the meal is cooked is a good first step, a lot of the sodium we consume comes from processed foods: canned vegetables, soups, frozen dinners and even baked goods. High sodium consumption raises blood pressure, which isn't good for the heart.

Cooking your own meals and condiments from scratch can help you control the amount of sodium added that's best for your diet. This ketchup uses fresh tomatoes without all the extra additives, and is great to show off at your summer BBQ.

Check out this recipe for low sodium, heart healthy, garden fresh ketchup that would go great with some sweet potato fries or a nice veggie burger.

This post has not been tagged.

Permalink | Comments (0)