The WomenHeart Blog presents heart health information and news about the work of WomenHeart, a nonprofit organization dedicated to improving the lives of women living with heart disease in the U.S. Want to write for us? Reach out to us at communications@womenheart.org.
Top tags:
heart disease
advocate
Mary McGowan
Susan Campbell
Posted By Kristina Brooks, Senior Associate, Digital Communications, Friday, November 16, 2018

As healthcare rapidly moves toward a more tech-driven structure, many leaders are looking to preserve the classic 'bedside manner' of its past. WomenHeart attended the U.S. News & World Report HealthCare of Tomorrow Conference on Nov. 14, 2018 to learn how companies plan to put the patient first when it comes to care.
The rideshare company UBER recently launched Uber Health under head of strategy, Lauren Steingold. This comes after Steingold launched a successful on-demand flu-shot campaign bringing the shot right to a person's doorstep. Uber recognized that that up to 4 million people a year miss a doctor's appointment due to challenges with transportation and access. With the HIPPA compliant Uber Health platform, physicians can arrange patient rides for important follow ups, post-op appointments and more. Their goal is to not only reduce no-show rates for physicians, effectively lowering healthcare costs, but also get more drivers on the roads during off-peak hours to earn better wages.
While Uber Health works to solve the transportation problem, a New York City-based company, CityMD, works with patients to provide greater access to high quality, low cost providers for patients. CityMD operates primarily as urgent care, but when a referral is needed, it uses a database to connect the patient with quality providers they may have had difficulty finding otherwise. Richard Park, M.D., CEO of CityMD says it's all about cultivating trust with patients that creates better health outcomes and lower costs.

Patient trust is not only a key target area for newer platforms, but also for existing health companies in connecting with their audience. Leaders from Cleveland Clinic and Penn Medicine called this 'precision marketing' - using patient data to create the content wanted most. Paul Matsen, Chief Marketing and Communications Officer at Cleveland Clinic has cultivated trust for their brand by only creating content reviewed by a Cleveland Clinic medical team and written by Cleveland Clinic staff. This he says, creates patient resources that are easy to find, easy to share, and easy to rely on.

WomenHeart was honored to partner with U.S. News & World Report as an event sponsor, to help in bringing together rising leaders in health and supporting other organizations who share a patient-first mission. As we move into our 20th year anniversary, our focus is to remain a brand that heart patients and caregivers can trust. Our future includes a new online hub for our Champions, more patient-focused content for every part of your heart journey, and reaching even more women living with or at risk of heart disease nationwide.

Photos by Wyatt Westlund, U.S. News & World Report.

This post has not been tagged.

Permalink | Comments (0)
Posted By Anthony Vieira, Manager of Communications, WomenHeart, Wednesday, November 14, 2018

As we celebrate World Diabetes Day, we're reminded of the significance of health awareness. With more than 100 million Americans living with diabetes or pre-diabetes, the risk of developing chronic conditions like heart disease is very real—especially for minority populations.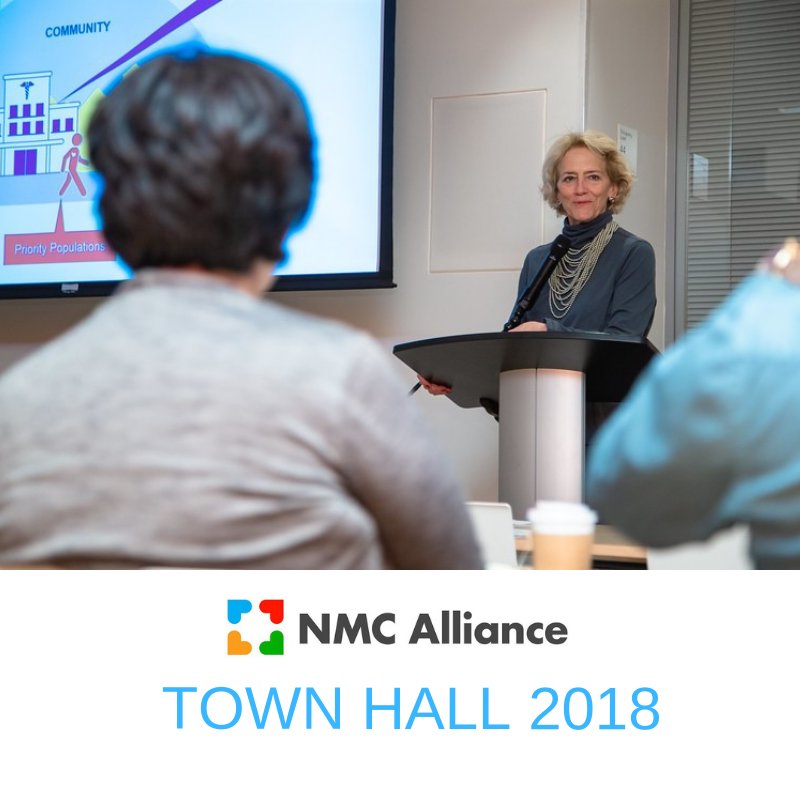 On Oct. 29, WomenHeart attended the National Minority Cardiovascular Alliance (NMCA) Town Hall to learn more about the role heart disease plays in communities of color and the minority patients' experience.

"There are many in the African-American community who fail to visit a doctor out of fear of learning bad news about their health," says WomenHeart Champion Faith Robinson. "I've seen it firsthand as a nurse." Faith was part of an insightful panel on heart disease and minorities that included University of Washington Pediatric Cardiologist Jason Dean, M.D., and David Lee Hawks, deputy director of the National Council of Asian Pacific Islander Physicians (NCAPIP).

The panel discussion—moderated by Centers for Disease Control (CDC) Public Health Advisor Kristi Fultz-Butts, MPH—revealed some of the day-to-day challenges facing minority populations, including health insurance denials, access to care in rural areas, and general lack of health awareness. "More community-based research, like NIH studies and clinical trials are needed, especially for women," said David Lee Hawks.

The NCMA, established by The Make Well Foundation, is a forum comprised of thought leaders from various health and advocacy organizations to address cardiovascular challenges facing minorities. Among the town hall attendees were representatives from the Food and Drug Administration (FDA), National Heart, Lung and Blood Institute (NHLBI), The Association of State and Territorial Health Officials (ASTHO), and Mended Hearts. To learn more about the NMCA and how you can get involved, please visit online here.

This post has not been tagged.

Permalink | Comments (0)
Posted By WomenHeart, Tuesday, November 13, 2018

WomenHeart Champion Yesenia had no idea she was having a heart attack the morning she told her boyfriend she was having trouble breathing…

Like many women, heart disease runs in Yesenia's family. She lost her father to a heart attack, and although she practiced healthy habits, genetics plays a large role in your overall risk for developing heart disease.

Your donation

helps to carry on Yesenia's #HeartStrong mission to educate other women about family history and heart disease. You can help to prevent other young women from experiencing a life-threatening emergency like Yesenia by making a

donation today

.

Watch Yesenia's full story, and don't forget to

make a donation

this #GT. Share this story with others to show that at any age, any stage of life, you can be #HEARTSTRONG.

Learn more about our #HEARTSTRONG campaign and the women behind it.

This post has not been tagged.

Permalink | Comments (0)
Posted By WomenHeart, Friday, November 2, 2018

Fall Harvest Farro
A warm dinner is perfect for this fall season and we've got you covered. Turmeric chicken with farro, originally posted on Health.com is a creative and healthy way to serve chicken. The dish not only has flavor—made with farro, parsley, cashews, and turmeric—but contains several anti-inflammatory ingredients that are healthy for you. Give it a taste.

Why it's heart healthy:

Curcumin, the main active ingredient in turmeric, has powerful anti-inflammatory ingredients and a strong antioxidant. It can also work to benefit circulatory functions like blood pressure and clotting.

This post has not been tagged.

Permalink | Comments (0)
Posted By Kristina Brooks, Wednesday, October 31, 2018
Updated: Thursday, November 1, 2018
Less than a week into my role as interim CEO for WomenHeart in late July, I was the lucky recipient of an email from Sharonne Hayes, M.D. director of the Women's Heart Clinic at Mayo and long-time friend to and collaborator with WomenHeart. She asked whether WomenHeart might be interested in meeting Danielle, a determined woman with heart disease who worked with photographer Candy Hoehn to create a stunning set of photographs of eight women with heart disease. The photographs showcase how beautiful scars can be in a captivating way with red scarves. Danielle and Candy were looking for the right forum to share the photographs to raise awareness about heart disease.

Fast forward to early Oct., and I met our newest WomenHeart Champions. Their stories were gripping, from a marathon runner to an Army veteran. It was also my first time to meet and spend time with some of our district leaders (DL) who are serving as mentors/big sisters to the new Champions. They, too, have powerful stories, along with deep wisdom from helping other women.

WomenHeart's upcoming #GivingTuesday campaign will feature one of those district leaders, Robin. She had her first heart attack when she was 46 years old and currently has 15 stents. Robin's beautiful photographs and story, the eight other women from Danielle's photo project, and the four other WomenHeart Champions, are now part of a limited edition calendar being offered as a gift to our supporters this year for those who make a donation of $50 or more this #GivingTuesday!

I personally am a beneficiary of charitable donations from giving benefactors. I had to put myself through college and law school, and scholarship funds helped make my experience possible. Many of us have given pledges to phone-a-thons, walkathons, and other fundraisers where we were moved by the stories of people and causes that make a difference.

WomenHeart is an organization whose stories I hope will move all of us to act on #GivingTuesday. Robin and her heart sisters – nearly 900 other courageous WomenHeart Champions – give us a common sense of purpose and a community that we want to support. Their training as Champions is made possible only through the generosity of donors, like you.

We need you, and we are grateful for your financial support on this national day of giving. Please tell your friends, families, churches, employers, colleagues, and social media supporters that WomenHeart would be the perfect #GivingTuesday organization to support this year! Thank you.

Kindest Regards,
Mary Logan


This post has not been tagged.

Permalink | Comments (0)
Posted By Sonya Lucas Roberts, WomenHeart Champion, Wednesday, October 31, 2018
Updated: Wednesday, October 31, 2018
Strong, thriving women converged on Rochester Thursday. On October 2018, as the WomenHeart Science and Leadership Symposium would convene. We embarked on this journey with open minds, open hearts, ready to share experiences. Knowledge ready to impart. Many had experienced life-changing, life-altering heart events. Circumstances, situations they would present. We came to the door not really knowing each other. Yet in a few hours we became sisters of the heart connecting with one another. It didn't take long to realize that we were in a room full of miracles.

Friday morning we were introduced to WomenHeart and all that they do. Hearscarves, Sister Match, Sisters online community, activities just to name a few. A review of the pre-symposium training guide to communications peaked our interest and upped our expectations. Then came the lunch panel. The patient's perspective on living with heart disease, the beginning of some powerful testimonies. Our sisters enlightened, inspired and encouraged with their touching stories.

Do yourself a breast exam, but don't forget your heart. Don't go home and lose the magic of this weekend. We were just a few nuggets our heart sisters sent. These sisters exhibited power and grace as their infectious spirits, fortitude and valor filled our space. A sister commented, "If you didn't cry you don't have a heart."

It didn't take long to realize that we were in a room full of miracles.
Now telling our story is an integral part of our journey. We were introduced to the five qualities of a well told story. Telling a story should not be sad or depressing but an open and honest retelling.

Didn't take long to realize that we were in a room full of miracles.
Early in the morning, feeling simply silly as we laughed out loud, was what laughing yoga was all about. We were introduced to thrivership. How to thrive and survive. To grow and flourish, to carry on and persevere, we must change the way we look at things to change the way we are, to change the way we see. Changing our perspective brings a brand newfound liberty. Sisters began sharing as tears of release and comfort flowed, that momentum of healing never slowed. Encourage yourself. Don't just do something, stand there. Your diagnosis does not define you. We were still realizing that we were in a room full of miracles. From tantalizing taste to increased knowledge of the heart, we were stretched and stretched with our taste buds and we were encouraged to take part.

From the Marriott to the kitchens healthy foods were introduced. Delicious recipes that we hope you all will use. Some heart sisters had fun chopping and blending. Our lunch was really tantalizing because we were, a room full of miracles. We were then enthused and inspired and motivated by those fantastic sister cardiologists. Now they gave us so much because they patiently answered and shared our questions, thus expanding our base. They gave us some tools to run this race. As our women's heart sisters continue to share we looked around and saw this room full of miracles. Culturally we need to be curious and meet people where they are and open the bar. Open the bar to our own biases. We don't think the way we think because uncontentious bias is unconscious. We need to be open and honest and really listen and pay attention to us. Develop your own yellow-white system and realize, it's us, not them.
We met to discuss mental health issues and how we felt about our disease or event. The conversation morphed into the best group yet. Openly sharing about our support. You know, family support we may or may not get.
As we come to a close, we cherish this most valuable gift. Heart Sisters day in our lives to give us a lift. Over a weekend we had cried and laughed, shared gladness and sadness. Loved up on each, comforting one another. Different colors, sizes, shapes, diagnosis. Married, single, divorced, hooked up.

Old, young, in the middle. Grief stricken, heartbroken, filled with joy. All sister queens. We will never look the same. We will never be the same.

Who are we? Women who see, support, educate, advocate. We are an ocean filled with women from all walks of life. The young, the old, as I said before. Women who bring their stories together to inspire, motivate and encourage others because we have welcomed our heart sisters into our space we now have a new invigorated, solid space. We say asante sana to God above for He has shown us we are just an openly, heavenly manifestation of His love. Why? Because we are proud to say we are and will always be, a room full of miracles.

This post has not been tagged.

Permalink | Comments (0)
Posted By WomenHeart, Thursday, October 25, 2018

#HispanicHeritageMonth may be over but the work that our Latina Champions do continues! Meet Melissa Castro, one of our newest WomenHeart Champions. Following her experience at the Science and Leadership Symposium, she's ready to educate and advocate in her community!

Melissa, a resident of south Texas, has experienced first hand the prevalence and risk factors of diabetes and heart disease within the high population of Latinas in her area. As a Champion, Melissa can reach her community to deliver important health information that may not be accessible due to language or geographic barriers. We're honored to work with Melissa and all of the Champions in the fight to end heart disease.


This post has not been tagged.

Permalink | Comments (0)
Posted By WomenHeart, Wednesday, October 24, 2018

#GivingTuesday is just around the corner, join us and donate as WomenHeart highlights powerful stories of women who are staying #HeartStrong, sharing their scars, and inspiring others to lead the fight against heart disease.

#GivingTuesday is an annual global day of giving, fueled by the power of social media and collaboration. It is celebrated on the Tuesday following Thanksgiving among other widely recognized shopping events like Black Friday and Cyber Monday. But #GivingTuesday is different, focusing on charitable donations for a cause you care about.

Your donation helps us continue to support, educate, and advocate for the 48 million American women living with or at risk of heart disease. Supporters who make a donation of $50 or more, will receive a signature #HeartStrong 2019 calendar.

Get involved this Giving Tuesday on November 27, and Give Heart.

Learn more about information about our #HeartStrong campaign and the women behind it.

This post has not been tagged.

Permalink | Comments (0)
Posted By WomenHeart, Thursday, October 18, 2018
Updated: Monday, October 1, 2018
Apple of my Eye

Kick-start the autumn season with a delicious blend of land and sea

with this recipe

for curried scallop-apple salad, originally posted in

Eating Well

.

Why it's heart healthy:

The assortment of scallop and greens pack this salad with potassium, protein, and essential vitamins for your heart health. Since this dish is dairy-free, gluten-free, it's low in inflammatory ingredients, while also being low calorie. And, we can't forget the apples—they add a touch of sweetness that make this dish an autumn delight.

Sign up for more heart-healthy recipes with our Heart to Heart newsletter.

This post has not been tagged.

Permalink | Comments (0)
Posted By WomenHeart, Wednesday, October 17, 2018

Congratulations to WomenHeart Science Advisory Council member Rita Redberg, M.D. on her induction into the National Academy of Medicine (NAM). Dr. Redberg was actually elected to the NAM last Oct. Election to the NAM is considered one of the highest honors in the fields of health and medicine and recognizes individuals who have demonstrated outstanding professional achievement and commitment to service. Established originally as the Institute of Medicine in 1970, the National Academy of Medicine addresses critical issues in health, science, medicine, and policy. To learn more, visit NAM's website.
This post has not been tagged.

Permalink | Comments (0)