Posted By Amy Friedrich-Karnik, Tuesday, October 16, 2018

Population experts say life expectancy in the United States has decreased in recent years, and America has fallen behind other developed nations. On Oct. 5, Rep. Debbie Wasserman-Schultz (D-FL) introduced a bill that would require the federal government to develop a "National Strategy to Increase Life Expectancy." WomenHeart supports this bill, which, among other things, calls for analysis of differences in life expectancy by sex. This will be important to understanding how we can improve women's heart health. You can read more on the bill in

this Newsweek article

.

This post has not been tagged.

Permalink | Comments (0)
Posted By Amy Friedrich-Karnik, Friday, October 12, 2018

https://www.youtube.com/watch?v=NttqecCHnbE

On Wednesday, Oct. 10, the U.S. Senate voted on a resolution introduced by Sen. Tammy Baldwin (D-WI) that would have overturned the expansion of short-term limited duration insurance plans. The bill would have preserved protections for individuals with pre-existing conditions and essential benefits guaranteed by the Affordable Care Act, as short-term plans are not required to do either. WomenHeart supported the bill, which would have improved access to adequate health insurance for women with heart disease. Unfortunately, the vote ended in a 50-50 tie, falling short of the majority needed to pass this measure and overturn the administration's regulation extending the use of short-term plans.

Threats to protections for individuals with pre-existing conditions remain (learn more by reading our fact sheet), so now is the time to take action. With just a few clicks, you can contact your members of Congress and make your voice heard.

Share your heart story and help all women with heart disease have access to care.

This post has not been tagged.

Permalink | Comments (0)
Posted By Amy Friedrich-Karnik, Director, Public Policy, Thursday, October 4, 2018

Legislation Rejects Inadequate Insurance Plans that Discriminate Against Women with Heart Disease

On Oct-. 2, a new federal regulation that authorizes the expanded use of short-term, limited-duration insurance plans went into effect. WomenHeart opposed this regulation when it was issued over the summer because such plans are inadequate and deny protections for people with pre-existing conditions, like heart disease. Sen. Tammy Baldwin (D-WI) has introduced legislation that would overturn this rule. WomenHeart supports that bill, which could be voted on in the Senate as early as next week.

Stay tuned for ways you can take action and let your elected officials know it's critical to defend protections for women with heart disease and others with pre-existing conditions! For more advocacy updates and step-by-step actions you can take to get involved in the vote next week, sign up for our mailing list.

This post has not been tagged.

Permalink | Comments (0)
Posted By Amy Friedrich-Karnik, Director, Public Policy, Wednesday, September 26, 2018

Amy's Advocacy Corner
One of WomenHeart's policy and advocacy priorities is to make sure members of Congress hear the voices of women with heart disease and turn to WomenHeart and our Champions when their input is needed most. Health coverage is a top priority and we want all women to have access to quality care. To that end, we are proactive in making sure Congress hears from us—and you, particularly as it relates to the Affordable Care Act (ACA). Soon, we will be sending you a call to action and providing the tools you need to reach out and make your voices heard on this issue.

WomenHeart Scientific Advisory Committee members Nanette Wenger, MD and Noel Bairey Merz, MD, along with Beverly H. Lorell, MD, recently published an article making the case for why "recent legislation and public policy changes are particularly relevant to the cardiovascular community." The article describes how the Affordable Care Act (ACA) promoted women's health and reversed prior sex inequities in health care. It argues that current policy trends to undermine the ACA "will adversely affect women's general and specific CVD health."

To learn more from WomenHeart about the impact of the ACA and what's at stake, please read our fact sheet and stay tuned for calls to action.

This post has not been tagged.

Permalink | Comments (0)
Posted By Amy Friedrich-Karnik, Director, Public Policy, Wednesday, September 26, 2018
Updated: Wednesday, September 26, 2018
WomenHeart advisors Dr. Nanette Wenger and Dr. Noel Bairey Merz, along with Dr. Beverly H. Lorell, recently published an article in the American Heart Association journal, Circulation, making the case for why "recent legislation and public policy changes are particularly relevant to the cardiovascular community." The article describes how the Affordable Care Act (ACA) promoted women's health and reversed prior sex inequities in health care. It argues that current policy trends to undermine the ACA "will adversely affect women's general and specific CVD health."

To learn more from WomenHeart about the impact of the ACA and what's at stake, please read our Affordable Care Act fact sheet and stay tuned for calls to action!

This post has not been tagged.

Permalink | Comments (0)
Posted By Hope Avalone, Public Policy Intern, Wednesday, September 19, 2018

The majority of Americans will experience at least one diagnostic error in their lifetime. For many women with heart disease, they know all too well how challenging – and sometimes devastating – the journey can be to arrive at an accurate diagnosis. To increase awareness of this issue, WomenHeart joined the Coalition to Improve Diagnosis, convened by the Society to Improve Diagnosis in Medicine.
Last Thursday, September 13, this group launched ACT for Better Diagnosis, an effort to ensure the Accuracy, Communication, and Timeliness of diagnoses. WomenHeart's Director of Public Policy, Amy Friedrich-Karnik, participated on a panel at the launch event held at the National Press Club in Washington, DC.
To start the event, Michael Night shared the story of his son's missed diagnosis - a stroke that took three days to be recognized, despite multiple professional opinions and extensive testing. This preventable tragedy has significantly changed the course of his son's life and deeply affected his entire family. Following Michael's remarks, Gopal Khanna challenged us to be open and to think differently about what's possible, about how we can better optimize technology and data. Khanna serves as Director at the Agency for Healthcare Research and Quality (AHRQ). He's inspired by a goal of reducing diagnostic error by 100%.
During the panel discussion, Amy presented the patient perspective. more specifically she discussed how patients can prepare for health visits, and ways health providers can support women with heart disease who are going through the diagnostic process. Overall, the panel emphasized the importance of the physician-patient relationship, as well as collaboration among diverse types of health professionals and the role of large health systems.

Women at risk of heart disease face unique challenges regarding diagnosis. It is important to understand how to interact effectively with your healthcare providers. WomenHeart recommends coming prepared with your medical history, writing down questions ahead of time, and bringing someone who can help listen and advocate for you. Together with the other members of the Coalition to Improve Diagnosis, WomenHeart will continue to represent patients and to advocate for better diagnostic equipment, new tools for communication, and increased patient involvement in the diagnostic process. The launch of ACT for Better Diagnosis is only the first step.

This post has not been tagged.

Permalink | Comments (0)
Posted By WomenHeart, Thursday, September 13, 2018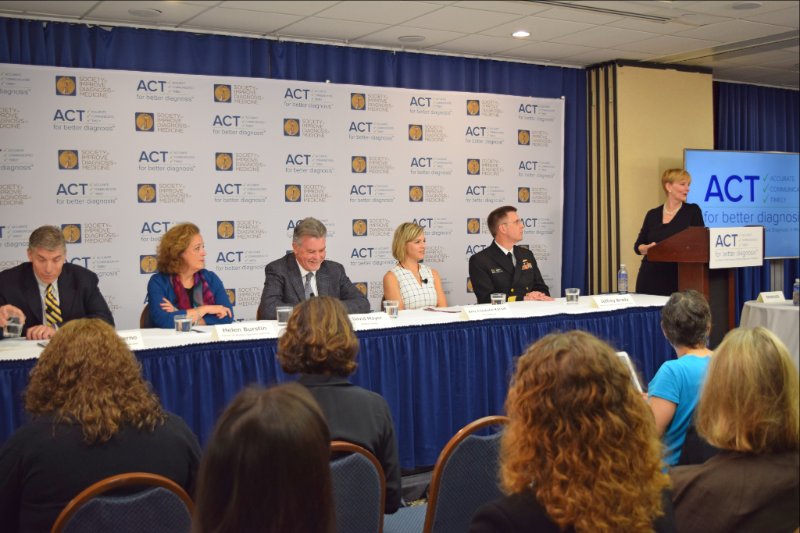 As members of the Coalition to Improve Diagnosis, WomenHeart ensures that the voices of women heart patients are included in the work to improve the diagnostic process. On Thursday, this group launched ACT for Better Diagnosis, an effort to ensure the Accuracy, Communication, and Timeliness of diagnoses. WomenHeart's Director of Public Policy Amy Friedrich-Karnik, participated in a panel discussion at the launch event, bringing the patient perspective and talking about some of the unique challenges women face when being diagnosed with heart disease. Read more about this new effort in our blog coming soon.

This post has not been tagged.

Permalink | Comments (0)
Posted By Amy Friedrich-Karnik, Director, Public Policy, Thursday, August 30, 2018

Amy's Advocacy Update
WomenHeart continues our work to ensure that all women living with and at risk of heart disease can get the health care they need, including coverage for their diagnostic tests, treatments, and medications. In the coming weeks, we will share information and ask you to make your voice heard in support of adequate and affordable coverage and protections for those with pre-existing conditions, including women with heart disease.

Join us on social media to

#DefendPreEx

. Stay tuned for ways to engage lawmakers with your story and a call to action. And let us know if you're interested in a meeting with your member of Congress to talk about what insurance coverage has meant for you. Whether it's meeting with your member of Congress, writing a letter for your local paper, or filming a short video for social media, we'll be happy to make it happen and to give you the tools you need.

The Affordable Care Act was instrumental in expanding access to health insurance for those who previously couldn't afford it, or those who couldn't qualify, or were charged more for plans because they had a pre-existing condition. That was especially the case for women. Unfortunately, the protections that are now in place for those with pre-existing conditions continue to be under threat. New regulations and new laws have threatened the stability of the health insurance marketplace and weakened guaranteed access to care. For example, just this month, WomenHeart joined with other patient advocacy organizations to

express concern

about a new federal regulation to authorize the expanded use of "short-term, limited-duration insurance plans." Those plans are inadequate and deny protections for people with pre-existing conditions.

To set up a meeting with your member of Congress or learn more about WomenHeart's advocacy efforts,

contact Amy

.

This post has not been tagged.

Permalink | Comments (0)
Posted By Amy Friedrich-Karnik, Director, Public Policy, Monday, August 27, 2018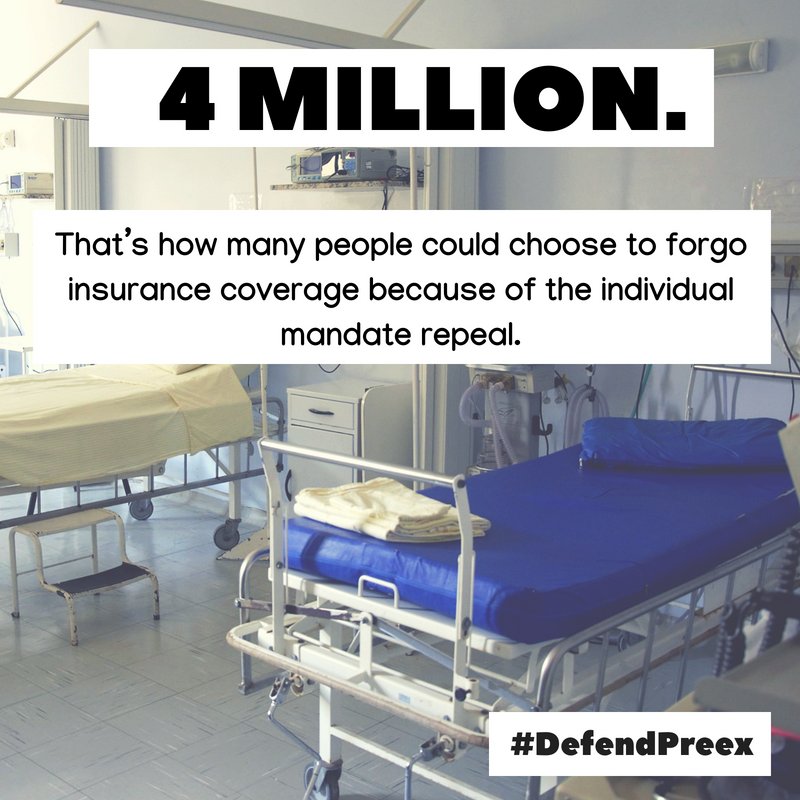 Everyone needs health insurance, but never is that more real than after being diagnosed with a heart condition. The Affordable Care Act was instrumental in expanding access to health insurance for those who previously couldn't afford it or who couldn't qualify for any plans because they had a pre-existing condition.

Unfortunately, the protections that are now in place for those with pre-existing conditions continue to be under threat. New regulations and new laws have threatened the stability of the health insurance marketplace and weakened protections and guaranteed access to care.

WomenHeart is working alongside a number of patient-focused organizations, fighting to defend the protections that are in place for people with pre-existing conditions, and for women with heart disease.

We ask you join us on social media to #DefendPreEx. And please stay tuned for news from WomenHeart on how to engage lawmakers with your story and advocate for women with heart disease. Sign up for our newsletter for the latest.

Follow #DefendPreEx on Twitter for weekly updates on how policy changes affect you as a patient, and for specific ways you can get involved to protect yourself.

This post has not been tagged.

Permalink | Comments (0)
Posted By Amy Friedrich-Karnik, Director, Public Policy, Thursday, August 2, 2018

Today the Administration authorized the expanded use of "short-term, limited-duration insurance plans." WomenHeart expressed concern with this decision because those plans are inadequate and deny protections for people with pre-existing conditions. They threaten to destabilize the health insurance marketplace, and we call on states to stand up for patients left behind by the rule, including many women living with heart disease.

Read the full letter and see what organizations are standing to defend pre-existing conditions.

This post has not been tagged.

Permalink | Comments (0)